In December 2017, Rebecca Wong of Practice of Being Seen interviewed me about marriage, increasing intimacy vs closeness, and my approach–carefrontation. You'll learn more about what my clients can expect when working with me.
Carefrontation: Dr. Murray's approach.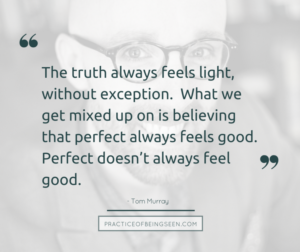 Tom tells Rebecca about his "carefrontational" approach with clients and how he helps them to see where they're creating their own suffering.  They discuss the difference between post-traumatic stress and post-traumatic growth, moving with the flow of life versus living in resistance, how our realities disprove the messaging of our default consciousness, and the differences between intimacy and closeness.  Tom and Rebecca exchange thoughts on selficide, monogamy, the #metoo movement, and the only deep knowing we can ever really have.
Be sure to visit Ms. Wong's podcast and meet your need for The Practice of Being Seen.
Leave your comments below on how this perspective fits with your understanding of your relationship!