Bringing Baby Home is a workshop for pregnant couples and parents of infants and toddlers to learn parenting and relationship skills that will last a lifetime.
Seventy-five percent (75%) of couples experience a significant decline in relationship satisfaction during the first three years of parenting. Often, many don't recover from the decline. Protect your relationship with BBH program.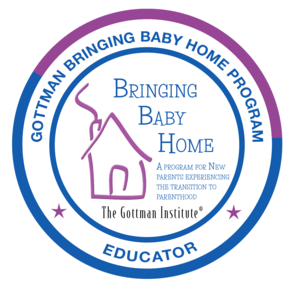 "Bringing home a baby is one of the most exciting times for new or seasoned parents. This time also poses significant stress on the couple's relationship. Dr. Tom Murray brings 15+ years of counseling and coaching couples towards building their relationships and establishing strong and healthy environments for baby to develop optimally. I encourage new parents to take Dr. Murray's Bringing Baby Home program. "
— Sidney Callahan, DO, Green Valley OB/GYN
Dr. John Gottman, Developer of Bringing Baby Home
In this 2 day seminar, prepare yourself for life with your baby and discover how to be the best parenting team possible. This seminar is for both parents and expecting couples. In a relaxed and supportive environment with Gottman Educator, Dr. Tom Murray learn how to strengthen your relationship with your partner and foster your baby's development during this new and challenging time in your life. Create a caring and nurturing atmosphere in your home and learn to cope with conflict in a positive way.
This workshop, developed by renowned relationship experts, Drs. John and Julie Gottman, helps to prepare you for the most important and rewarding job you will ever have, raising a child. In this 2 day seminar you will learn how to:
Stay connected with your partner
Strengthen your friendship, intimacy and conflict regulation skills
Interact with your baby in a positive way
Keep both parents involved
Deal with conflict successfully
Bringing Baby Home is different than other classes for new parents. It is based on scientific and public education to improve the quality of life for babies and children by strengthening their families.
Dr. John M. Gottman and Allison F. Shapiro's research has shown couples who have taken the Bringing Baby Home workshop show a dramatic increase in relationship quality and ability to handle the difficult relationship transition of moving from a couple to a family.
Frequently Asked Questions
Can we bring our child to the workshop? Answer: Yes. Children ages 0-3 months are welcome. Older children may have more challenges since they require greater levels of stimulation and interaction.
Must both parents attend? Answer: This workshop is best when attended with a partner; however, this doesn't have to be the other parent. A grandparent or another caregiver may attend.
No dates listed? Interested in this workshop?
 Send Dr. Murray an email to be added to the list for the next class. Minimum of 10 registrants needed.
Why I Love What I Do
Therapy Is My Calling
My favorite part about being a therapist is how much of a difference I make and how quickly. Some of my most successful clients were only in need of some education and some understanding but in our sessions watching the pieces fall into place for lasting happiness really makes me love doing what I do.
"As an OB/GYN, I am fortunate to have Dr. Tom Murray as a resource for referring patients in need of sex and couples therapy. In my experience, few counselors have been able to develop such a deep rapport with so many different people and their specific situations."
— Sidney Callahan, DO. Green Valley OBGYN.